Wholesale flowers are a vibrant and blooming industry that significantly provides fresh and beautiful flowers to various businesses and consumers. One of the top players in this field is Black Tulip Flowers Group. This renowned wholesale flower supplier caters to the demands of the flower market with a diverse array of flowers. In this blog, we will deeply dive into the wholesale flower industry, explore the latest trends, and offer essential tips for those seeking to buy wholesale flowers online.
The Rising Popularity of Wholesale Flowers Online
With the advent of e-commerce and technological advancements, buying wholesale flowers online has gained immense popularity in recent years. By offering a wide selection of bulk fresh flowers online, wholesalers such as Black Tulip Flowers make it easier for retailers, event planners, and businesses to conveniently access a diverse range of blooms from the comfort of their offices or homes. Convenience, variety and competitive prices are some of the driving factors behind the increased demand for wholesale flowers online.
Wholesale Roses for Any Occasion!
Wholesale roses are a top choice for businesses in the floral industry. With their extensive experience and expertise in flower cultivation, Black Tulip Flowers Group has established a reputation for delivering high-quality roses that meet the highest professional standards. Bulk roses are usable for various occasions and arrangements, such as weddings, events, or daily floral displays. These wholesale roses come in a wide variety of colours and species, ensuring that floral designers have ample options to create stunning arrangements. Moreover, purchasing roses in bulk allows floral businesses to streamline operations and significantly reduce costs per stem. Whether creating breathtaking centrepieces or enchanting bouquets, professional florists rely on bulk roses to deliver beautiful arrangements that meet aesthetic and budgetary requirements.
Wholesale Flower Suppliers: The Backbone of the Industry
Wholesale flower suppliers play a pivotal role in the flower industry's ecosystem. They act as intermediaries between flower growers and retailers, event planners, and various other businesses. These suppliers source flowers directly from farms, ensuring the flowers are fresh and of premium quality. Additionally, they often offer a diverse selection of flowers, enabling buyers to access an extensive range of blooms that cater to different occasions and events.
Navigating the Wholesale Flower Market
The wholesale flower market is a bustling hub of activity where suppliers, growers, and buyers come together to trade blooms in bulk. This market offers a wide assortment of flowers, ranging from classics like roses, lilies, and tulips to more exotic and seasonal varieties. Visiting a wholesale flower market can be an awe-inspiring experience as you witness an explosion of colours, fragrances, and textures. It's essential for buyers to come prepared with a clear idea of the flowers they require to avoid being overwhelmed by the abundance of choices.
The Advantages of Wholesale Fresh Flowers Suppliers
When it comes to purchasing flowers in bulk, opting for wholesale fresh flower suppliers like Black Tulip Flowers can be highly advantageous.Here's why:
a) Quality Assurance:
Wholesale fresh flower suppliers prioritize the quality of their blooms. They have quality control measures to ensure their flowers meet the highest standards. It means that buyers receive fresh and long-lasting flowers, making them perfect for various events and occasions.
b) Cost-Effectiveness:
Buying flowers in bulk from a wholesale supplier often results in significant cost savings. Businesses can enjoy better profit margins by taking advantage of wholesale prices, which are typically lower than retail prices.
c) Diverse Selection:
Wholesale fresh flowers suppliers offer a wide range of blooms, including seasonal and rare varieties.
Buyers can find the perfect flowers for any event or celebration due to the diversity of flowers.
d)Convenience:
With the option to buy wholesale flowers online, businesses can save time and effort without physically visiting a wholesale flower market. Online platforms provide a seamless buying experience with doorstep delivery options.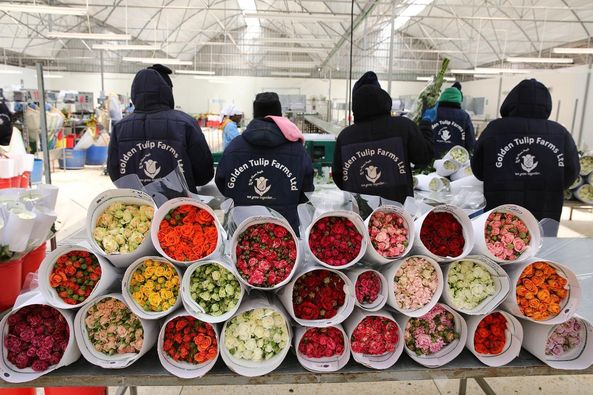 Top Wholesale Flower Trends
The wholesale flower industry is dynamic, with trends constantly evolving to meet changing consumer preferences. Some of the top wholesale flower trends include:
a) Sustainable Sourcing:
Environmentally conscious consumers and businesses increasingly seek flowers from sustainable and eco-friendly suppliers.
b) Bold Colours:
Vibrant and bold-coloured flowers have become a popular choice for various events, adding an element of excitement to floral arrangements.
c) Unique Floral Designs:
Custom floral designs incorporating unconventional elements like dried flowers, feathers, and succulents are gaining popularity for weddings, corporate events, and special occasions.
d) Focus on Local and Seasonal Blooms:
Many buyers opt for locally sourced and seasonal flowers, embracing the beauty of blooms that are naturally available during specific times of the year.
Essential Tips for Buying Wholesale Flowers
a) Plan Ahead:
Before purchasing wholesale flowers, clearly understand the types and quantities of flowers you need for your event or business. By following this approach, you can avoid overspending and minimize waste.
b) Quality Matters:
Choose a reputable wholesale flower supplier like Black Tulip Flowers to ensure the quality and freshness of your blooms. High-quality flowers not only look stunning but also last longer.
c) Consider Shipping and Delivery:
If you're buying wholesale flowers online, inquire about shipping and delivery options to make sure that your flowers arrive on time and in pristine condition.
d) Storage and Handling:
Properly store and handle the flowers upon delivery to maintain freshness. Follow the supplier's instructions for conditioning and caring for the blooms.
Bulk Flowers Online!
When it comes to sourcing bulk flowers, the online market has become a game-changer for wholesalers and retailers alike. You can access an extensive variety of blooms from around the world, allowing you to expand your offerings and meet diverse customer demands. One of the most significant advantages of purchasing bulk flowers online is its cost savings. By eliminating intermediaries and their associated mark-ups, wholesalers and retailers can take advantage of lower prices without compromising quality. Additionally, online platforms provide detailed product descriptions, high-resolution images, and customer reviews that aid in making informed decisions. Moreover, reputable websites like Black Tulip Flowers Group ensure strict adherence to industry-standard shipping practices guaranteeing fresh-cut flowers at their doorstep within days. The convenience, affordability, and extensive selection make buying bulk flowers online an indispensable solution for professionals in the industry seeking efficient sourcing options that deliver unmatched value for money.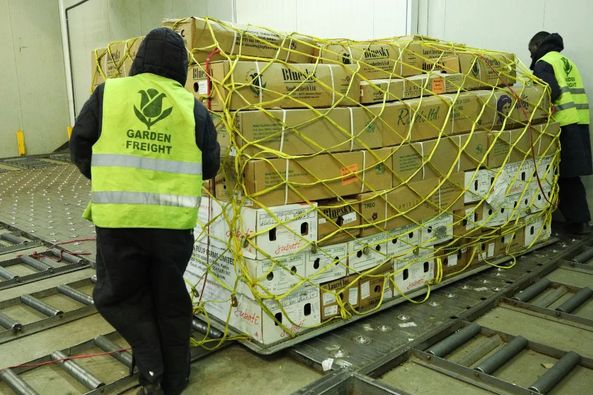 Conclusion
The world of wholesale flowers is a kaleidoscope of colours, fragrances, and textures, providing an array of options for retailers, event planners, and businesses to create stunning floral arrangements. Black Tulip Flowers Group stands as a prominent player in this industry, offering a diverse selection of fresh and high-quality blooms to cater to every occasion and demand. As the wholesale flower industry continues to evolve, staying informed about the latest trends and following essential tips will help you make the most of this blooming world of wholesale flowers.