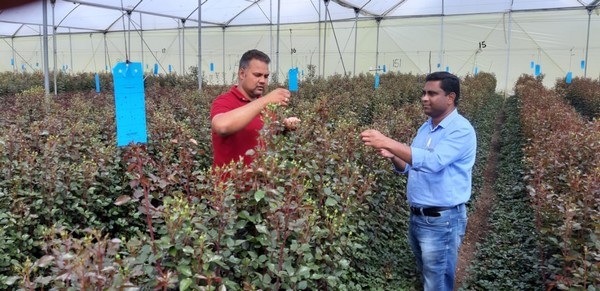 A visit to Kenya's Premium Spray Rose Grower
Black Tulip Flowers, the best shop for online rose delivery in Dubai, gets its supply of quality spray roses for its spray rose bouquets from Golden Tulip Farm. Golden Tulip Farm, a part of Black Tulip Flowers, is a spray rose grower in Kenya. The farm is located at Ol Kalou, a place ideal to grow flowers.
Mr. Shabistan Khan from BTF recently visited the farm and was quite amazed by the most modern and efficient infrastructure. The process of growing and exporting spray roses was explained to him by Mr. Umesh Choudhery, General Manager & Mr. Praveen Singh, Farms Manager of Golden Tulip Farm.
Flowers harvested from the greenhouse, and in the intake area, checked for pests and diseases and are kept in the cold room for proper hydration. The next day the flowers from the cold room are sorted lengthwise and bunched as per the buyer's request, box strapped, packed and are ready for dispatch.
Mr. Umesh of Golden Tulip Farm said, ''Growing spray roses is an art and science" and "Skill and diligence play a vital role to grow premium spray roses''.
Golden Tulip Farm has added gypsophila to its portfolio this year. It grows 32 premium varieties of spray rose and one variety of gypsophila called Xlence. The specialty at Golden Tulip Farm is heavy stems, which easily can make a good bunch with minimal flowers. The bud size is much bigger than other spray roses from Kenya. Any single stem can be seen with a minimum 5 to 7 buds. The spray rose has long stem length and beautiful foliage and good vase life.
These spray roses are popular with florists across the globe. The central pieces can also be used as fillers in various flower arrangements with roses. The spray roses, just like roses, are available in all colors. White, Red, Pink, Peach, Yellow, Orange, Purple and Bi-Colours.
Source: https://www.floraldaily.com/article/9183405/a-visit-to-kenya-s-premium-spray-rose-grower/