Sun Floritech Ltd, a Black Tulip Flowers Group farm in Naivasha Kenya had the gracious presence of The Indian High Commissioner to Kenya His Excellency Rahul Chhabra with his graceful wife Kavita Chhabra on 19th January 2020. His excellency and his wife were invited by Mr. Mohan Choudhery CEO of Black Tulip Group.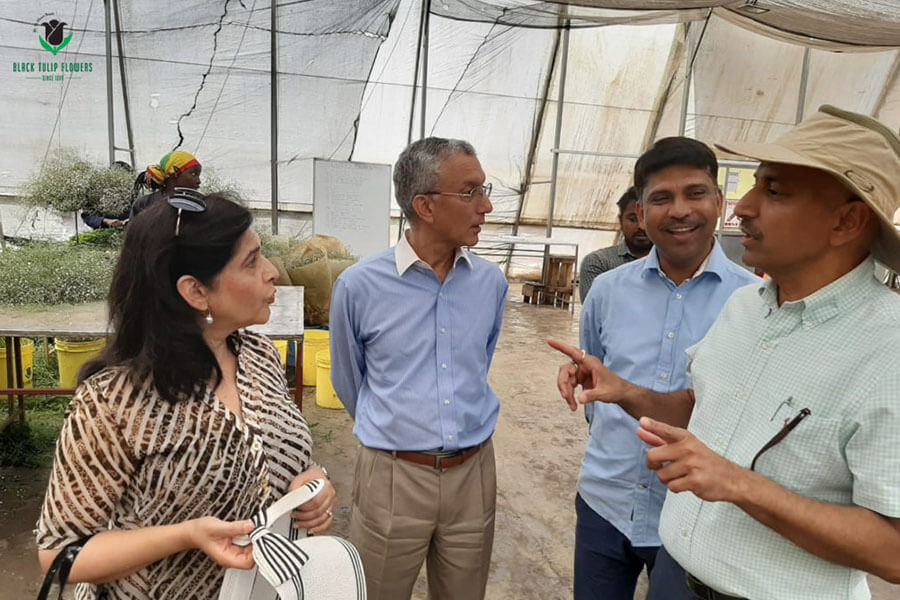 Mr. Avinash Mokate, Mr. Mohan Choudhery His Excellency Rahul Chhabra, Kavita Chhabra (R-L)
This visit was coordinated by the well renowned international agriculture policy advisor Shri Ashish Wele, who has immense international experience in various aspects of Agriculture. He is a consultant to corporate, public and private companies especially budding agri- entrepreneurs.
Mr. Mohan introduced Black Tulip Group which has around 250 ha of flower cultivation in Kenya, 55 ha in Ethiopia, and 15 ha of flower growing in India. Black Tulip Group was started in 1990 under the leadership of its Chairman Mr. Ehiya, a great visionary with a deep understanding of the floriculture industry and people. The company has the largest wholesale and retail flower business in UAE, it also has a vast presence in Qatar, Oman, Saudi Arabia, Malaysia, and India.
Despite Sunday being a holiday, his excellency came to the farm aroused by childlike inquisitiveness to understand how we at Black Tulip Group address the REGENERATIVE CONCEPT in commercial floriculture.
The most appealing aspect of the visit was to see how Sun Floritech, Naivasha grows outdoor flowers like Gypsophila (Baby's Breath), Limonium, Lepidium, Ruscus, Leather leaves, Eucalyptus, etc. using REGENERATIVE techniques which keeps on improving SOIL HEALTH. The above was explained in detail by Mr. Avinash Mokate. (G.M & Director)
The farm uses fundamental thoughts imparted by Padmashri Krishi Rishi Shri. Subhash Palekar from India. The principal target is to improve SOIL HEALTH which has deteriorated by the use of long-term Herbicides, Fertilizers, and Pesticides. The farm uses various dicot and monocot crop residue as mulch along with COVER CROPS like cowpeas, radish, onion, spinach, cabbage on the flower beds. This covers the soil and creates a forest-like environment so that the microbes and earthworms proliferate.
Cows of Indian origin are an integral part of this type of farming. Fresh cow dung and cow urine are used to make JEEVAMRUT as inoculum of beneficial microbes. The farm also uses decoction of various weeds having insecticidal properties ( DASHPARNI) which are fermented for 1 month. This is used in diluted form to combat insects in the farm.
The farm advocates the philosophy of using soil and foliar nutrition to combat disease and pest. The concept is that sick plant attracts insects to suck out its toxins from plants, therefore total soil analysis is done and then organic amendments are added to get soil in balance. This is a long process that involves improving organic matter of soils from 1% to 6% and above. With a high percentage of organic matter in the soil, the plants start to develop a self-defense system to combat disease and pest. This concept was explained by Mr. Sushant Patil who was selected for a "Master Course of Future Manager" by an international forum from Holland. He was trained for 2 weeks in Holland by international speakers in sustainable floriculture.
His excellency wanted to know how the transition was taken up by the Kenyan team. To this, the Farm Manager, Mr. Michael Onyango, said that he was hesitant initially but later with an objective mind he kept doing trials. Now the farm works with a 50% reduction in chemical pesticides and a 60% reduction in inorganic fertilizers. The farm has a 20% area where crops are grown with ZERO, fertilizers. Mike shared an observation that in December 2019 there was excessive rainfall in Kenya which could have led to root diseases in outdoor crops. But due to mulch and high activity of earthworm the compact soil of Naivasha turned porous and all excess rains percolated down to recharge the groundwater. This is our answer on how to combat floods worldwide.
Mr. Avinash Mokate emphasized his excellency Rahul Chhabra and Madam Kavita that the toughest part in this process is de-learning and relearning. At Sun Floritech farm even, the workers have embraced this concept of growing with organic mulch, applying jeevamrut to the soil on a biweekly basis, intercrop and use of live mulch. Instead of harmful chemical pesticides, the farm uses dashparni, purchased biopesticides, botanical extracts, and nutrition-based foliar fertilizers that seem to work to reduce disease and pest pressure. This is going on a REGENERATIVE concept to improve SOIL HEALTH.