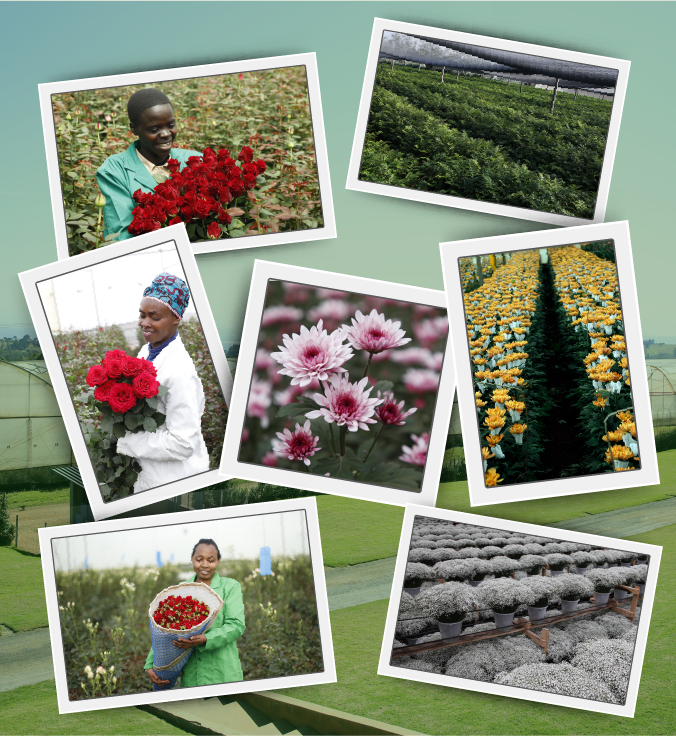 BTF Group is one of the top most flower exporters in the world with its head office in UAE. It started to cater Dubai and Abu Dhabi as a flower supplier to the wholesale and retail flower industry and grown strongly with its innovative objectives has now extended the business internationally to countries like Sultanate of Oman, Qatar, Kingdom of Saudi Arabia, India and Malaysia with its unique geographically located advantage. We are now being one of the foremost flower exporters in the world and leading exporters of fresh premium cut flowers in the International market with our own farms in Ethiopia, India, Kenya and Malaysia. We breed the widest range of premium flowers, Roses, Lilies, Chrysanthemums, Alstroemeria, Spray Carnations, Gypsophila, and other fillers and foliage in our flower farms.

Kenya is the third largest exporter of cut flowers to the International market. Virtually 50% of the Kenyan flower farms are located around Lake Navisha, 90 kilometers northwest of Nairobi and to speed up the export process of these farms, Nairobi airport has a terminal dedicated to the transport of flowers and vegetables. BTF Group owns more than ten farms for fresh quality premium cut roses. As per the statistics of the Kenya Flower Council (KFC) the flower industry of Kenya directly employs 90,000 and a further 500,000 are indirectly benefitted by auxiliary services.

Ethiopia, next to Kenya contributes to our flower exports and we own 5 farms for fresh quality spray roses, cut flowers and foliage's. BTF is now in the process of expanding our own farms in India and Malaysia. Apart from our own farms, we also have tie up with many other farms in these countries for the flower supply.
Black Tulip Group of Companies
BLACK TULIP FLOWERS INTERNATIONAL. BENGALURU
BLACK TULIP INFOTECH PVT LTD. CHENNAI
SHARMILA BUS SERVICE. THANJAVUR
BLACK TULIP FLOWERS INTERNATIONAL. MUMBAI
BLACK TULIP FLOWERS INTERNATIONAL. NEW DELHI
BATIAN FLOWERS LTD. TIMAU
BLACK PETALS LTD. KARURI. KIAMBU
BLACK TULIP BUSINESS SUPPORT LTD. NAIROBI
BLACK TULIP FLOWERS LTD. NAIROBI
BIG FLOWERS LTD. TIMAU
ECO ROSES LTD. KIAMBU
GARDEN FREIGHT LOGISTICS LTD. NAIROBI
GOLDEN TULIP FARM LIMITED. OL KALOU
LAUREL INVESTMENT LTD. OL KALOU
MAU FLORA LTD. NAKURU
SUN FLORITECH LTD. NAIVASHA
TULAGA FARMS LTD. NAIVASHA
GARDEN FLORA EXPORTS SND. BHD. KUALA LUMPUR
WENG HOA FLOWER BOUTIQUE SND. BND. KUALA LUMPUR
BLACK TULIP INTERNATIONAL LLC. RUMAIS
BLACK TULIP FLOWERS WLL. DOHA
FLOWER AL WEDAD EST. RIYADH
MARTKET FLOWERS TRADING EST. RIYADH
LULU FLOWERS EST. JEDDAH
BLACK TULIP FLOWERS LLC. DUBAI
BLACK TULIP FLOWERS LLC. (PLANTS) WARSAN. DUBAI
BLACK TULIP FLOWERS LLC. ABU DHABI
BLACK TULIP FRESH PRODUCE LLC. DUBAI
FRUTULIP GENERAL TRADING LLC. DUBAI