Welcome to Black Tulip Group
Started in 1990, Black Tulip Group has been catering to the ever-growing needs of flowers and plants across the Middle East for more than 30 years. We are one of the largest wholesale flower suppliers in the UAE with 14 self-owned farms in 3 countries, spread over a total area of 1790 acres, and additional 100+ contract farms in 25 countries.
With the strength of 5000+ employees and a fleet of over 150 refrigerated delivery vans we make sure over 2900 tons of fresh flowers are delivered to our customers on time while maintaining market leading quality standards.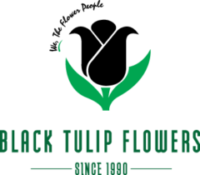 Award Winning Flower Wholesaler
Our vision and dedication towards excellence in floriculture has always been considered worthy of recognition. Over the years we have had the honour of receiving numerous accolades, with the most recent one being invited as a panel member for the Taste of Origins Business Forum at Dubai Expo 2020.
A few more Awards and Accolades:
– Black Tulip Flowers was winner of the Etisalat SMB Award in 2018.
– We bagged multiple awards at the 7th International Flower Trade Expo 2018, Kenya. We received First place Platinum trophy for Best Grower variety Magnum, Platinum award in the "Perishables" category and Winners of the Best Grower Quality Competition.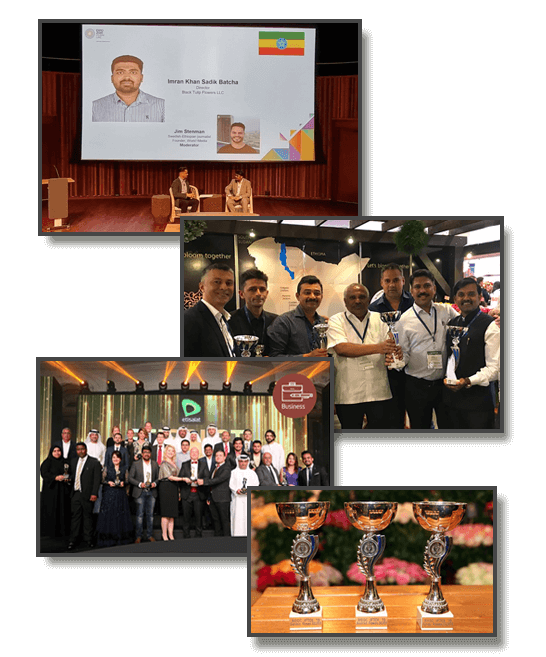 Our Collection
Black Tulip Flowers, is a farm-direct flower wholesaler that imports an extensive variety of premium, high-quality fresh cut flowers from different regions of the world. We have weekly shipments coming in from prominent flower producing countries like: Netherlands (Holland), Colombia, Kenya, Ecuador, Ethiopia, Malaysia, China, Italy, Belgium and Germany.
With over 30,000+ varieties of flowers to choose from, we provide you a truly wide range of selections, far more than most of other wholesalers. With state-of-the-art cold chain management and skilled labor force we make sure only the best quality of flowers is delivered to our clients as per their order.
Why buy from Black Tulip Flowers?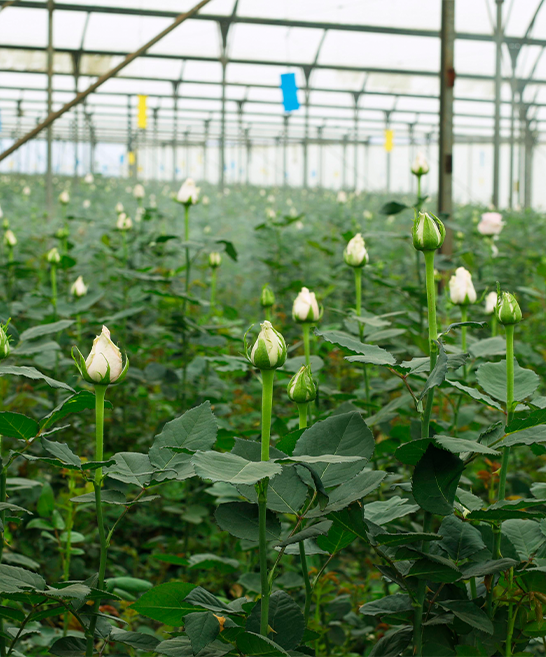 Seamless Order Processing
With our rigorous attention to detail and the ambition to provide the most comfortable wholesale experience to our clients we have painstakingly integrated our entire inventory management system with an SAP enable web-shop.
The advance web-shop enables you to check product availability and quantity, and place order right there with no need to contact us every time you have a requirement. You will also be able place a request for same day delivery if something urgent comes up. Note that, if you wish to, you can call us to discuss and then place the order.
Ready-to-sell Flower Bouquets on Wholesale
In addition to wholesale fresh flowers, we also provide our clients the option to buy ready to sell flower bouquets for customized wholesale rates. This option helps our clients to save the cost of hiring a florist and focus only on progressing their business.
You can either provide us the designs or choose from our extensive catalogue and we will have our in-house florists prepare the bouquets for you. Contact us with the form below to know more about this service.
Here are just a few examples of flower bouquets you can choose from:
FAQ
Why is buying from black tulip group better than other wholesalers?
btfadmin
2023-07-20T10:46:06+00:00
As a leading wholesale flower supplier in the Middle East with 30 years of experience, we boast a robust infrastructure, logistics network, and quality control systems. Our premium cut flowers come directly from our farms, with the option of fast same-day delivery. Additionally, we import flowers from contracted farms in over 10 countries to cater to specific demands. We guarantee exceptional quality and variety with an inventory of 30,000 flower variations. At Black Tulip Group, we pride ourselves on professionalism and customer satisfaction. Our dedicated team sources exquisite flowers globally, providing captivating floral arrangements and a seamless experience. Trust us to bridge the gap between continents and fulfil your floral needs effortlessly.